Become a channel partner today
Reseller channel Partner Program
Thankyou for your interest in becoming a Livingstone reseller.
We view our Livingstone resellers as members of our extended family. With a catalogue of over 90,000 products, in more than 20 industries we're at the cutting edge of meeting the demands and developing the best supplies, that Australian businesses use everyday.
Our reseller channel partnerships are tailored for all businesses. in-store bricks and mortar businesses, ecommerce websites, mobile technologies and supply chain networks. Whether you are an individual entrepreneur, a small business owner, or a Fortune 500 company, Livingstone International will help grow your business with our quality products.
Advantages
Our dedicated national team of over 300 staff members can help to provide you with;
Dedicated account managers
Logistics & Warehousing
Competitive pricing
Marketing materials
National distribution capacity
Access to over 90,000 products
Global importation cost savings
TGA and ISO accredited and approved products with Australian standards
What we look for in our Reseller channel Partnerships
We carefully select and approve our reseller partners based on a number of factors. We love to work with professionals that have committed sales and marketing strategies designed to promote growth and long term development mutually beneficial to the Livingstone brand.
We love to work with;
Equal opportunity employers
Innovative companies
Indigenous employer partners
Members of the
Indigenous businesses,
ADE Certified Australian Disability Enterprises,
women-owned businesses
Small to Medium-Sized Enterprises
Apply NOW!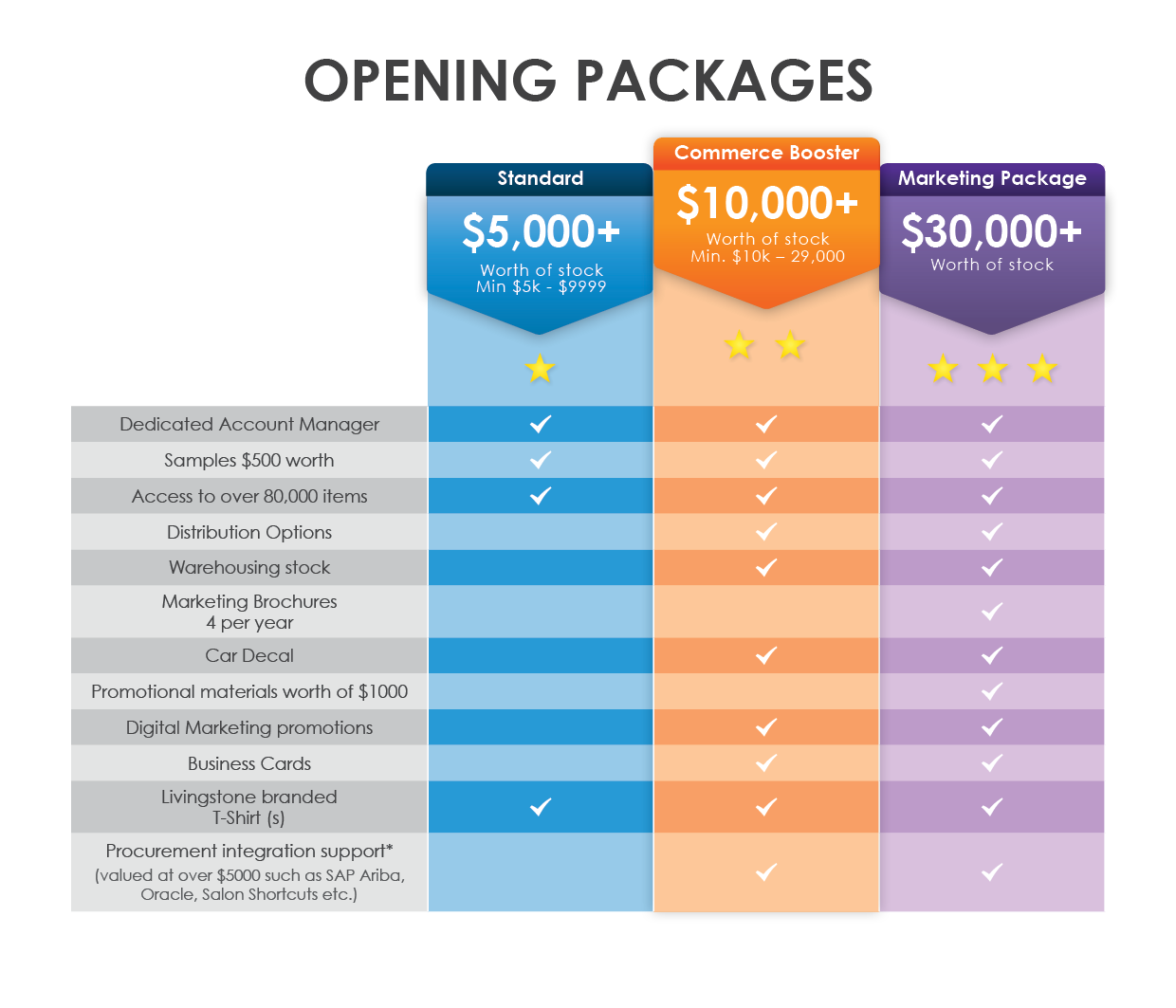 Terms & Conditions: the following opening packages are based on approved applications only and are applicable to orders placed from 1 December 2016. Livingstone reserve the right to include or exclude items listed in these packages. Stock is also subject to availability.
*Procurement integration applies to SAP Ariba, People Soft, Oracle, Salon Shortcuts. Please contact us if you use a procurement software program not listed here.
To Apply for a Reseller Account, Please call us on 02 8344 7300